Photography Awards – European Photography Competition 2022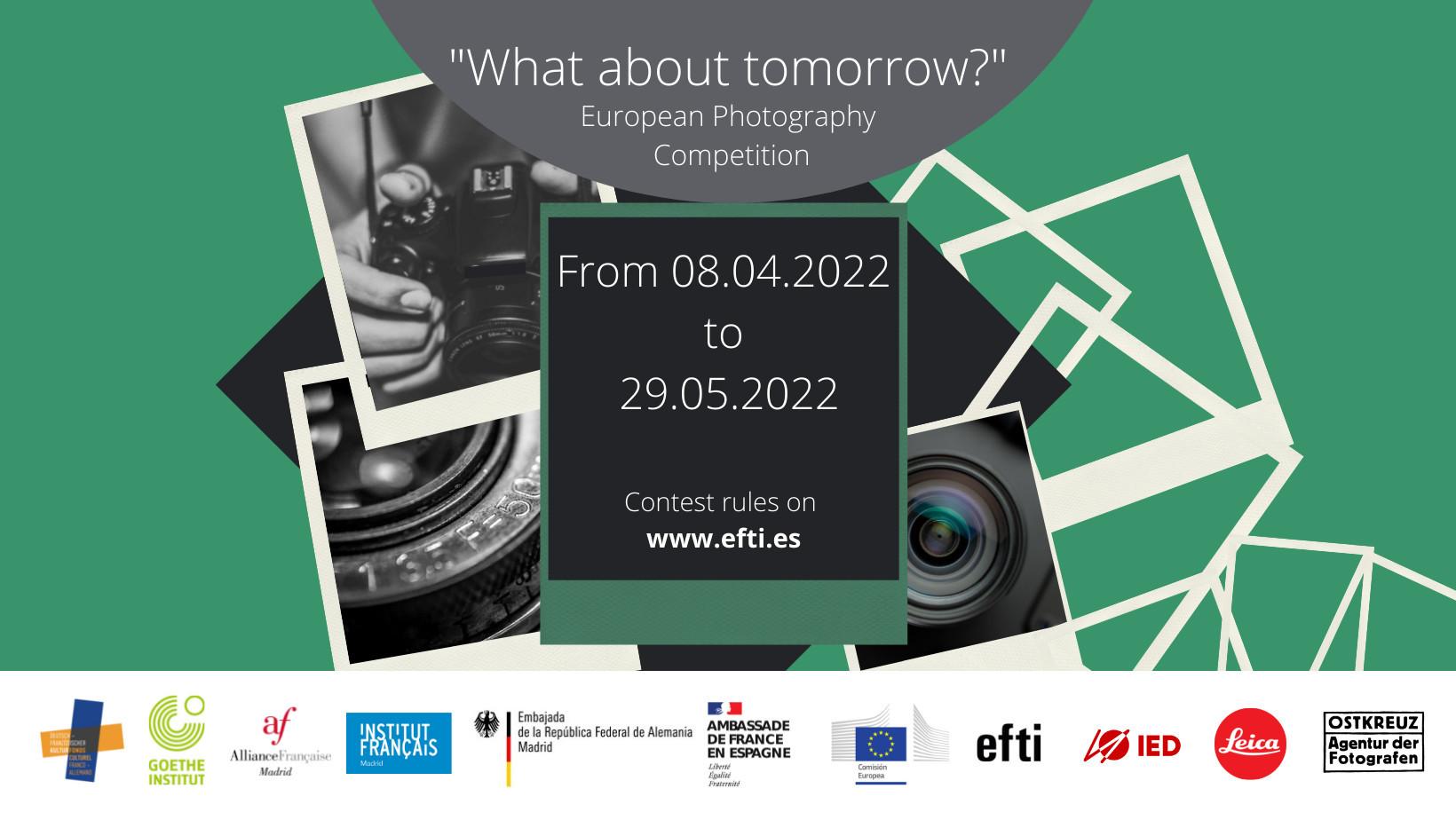 And tomorrow?" is the title of a Hispano-French-German project, co-organized by the Alliance française de Madrid, the Goethe-Institut de Madrid and the Institut français de Madrid with the support of the embassies of France and Germany in Spain, as well as the Commission of the Ministries of Foreign Affairs of France and Germany within the framework of its cultural program "Deutsch-Französischer KulturFONDS Culturel Franco-Allemand".
The project also relies on the collaboration of EFTI – International Center of Photography and Film and the support of Leica Camera Iberia, IED Madrid, Representation of the European Commission in Spain and OSTKREUZ -Agentur der Fotografen (Berlin).
Part of the project is a photography competition open to young European photographers and invites them to submit new ideas and visions for the future.
With this photo competition, the organizers and their collaborators aim to promote photography as one of the few artistic disciplines capable of exploring and representing specific historical contexts and events, whether they affect us personally or are foreigners: artistic and architectural photography that bears witness to the passage of time, nature photography, street photography or photojournalism reporting on wars, historical, political and cultural events, and all this in the context of the current pandemic and the complex global political climate, its measures and its consequences.
The theme of the photo contest is "And tomorrow? ": based on the experience of the pandemic and the recent drastic changes in the geopolitical context, the organizers and their collaborators invite young European artists to reflect on coexistence, integration, differences and acceptance. and share their vision for the future, with a focus on people-to-people relationships, ideas and perspectives for a common European and international future.
Preference is given to diptychs that express a dynamic and an evolution allowing to analyze and enhance the evolutions in progress and the hopes for the future of young people. Participants are invited to present a photographic diptych that shows an evolution, a change between the present and the future in a complex post-pandemic geopolitical context. Submitted works can also be photomontages based on the combination of different techniques (collage, design, filters, etc.) and/or digital technologies.
The European photo competition "And tomorrow?" is in search of the best of contemporary European photography and aims to introduce young European artists to their artistic and photographic visions of the future and to help them carry out their photographic projects.
The three finalists will win prizes in cash and in kind and, in addition, the Goethe-Institut, the French Institute of Madrid and the Alliance Française of Madrid, EFTI, Leica Camera Iberia, IED Madrid, the Representation of the European Commission in Spain and OSTKREUZ – Agentur der Fotografen will organize a traveling exhibition featuring the first 20 winners of the competition. A catalog will be published in addition to the exhibition.
Register online until May 8!